Good morning!
It's Friday! The weekend is almost here :)

What a busy week I've had! I am looking forward to a nice relaxing weekend, away from the computer and away from my 'office/workshop'...

Tomorrow we're going to Lewes to visit my daughter Lucy and grandaughter, Gabriella, and on Sunday I'm looking forward to spending some time with my Mum on Mother's Day :)

(It's a shame the weather forecast is not very good, but you never know, the forecasters don't always get it right, do they?!)

In the meantime, there are queries and emails to respond to, gifts to list, orders to make and packages to post - so I'd better make a start!

(Just need another mug of coffee first... teehee)

I hope you have found the messages this week interesting, insightful and relevant?

I'll be back on Monday, with a change of Oracle cards :)

Whatever your star sign - have a wonderful weekend!

Brightest Blessings,
Kaz
www.blessingz.co.uk
www.cheekywitch.co.uk
This week I am using the
Atlantis Cards
by Diana Cooper

Quoted from the pack: "The myth of the magical world of Atlantis has fascinated people for centuries: the spiritually highly evolved inhabitants of the Golden Atlantis revered and honoured every aspect of the natural world, recognising that everyone and everything is a part of the Source. From this respectful position they lead lives full of grace, compassion and love for each other.

Diana Cooper has magnificently captured and put to use the positive vibrations of the Atlantean time in this new card set richly illustrated by Damian Keenan. They can provide insights and inspiration for our life path, highlighting our strengths and helping us to work with our weaknesses in the best possible way."

My personal card for today: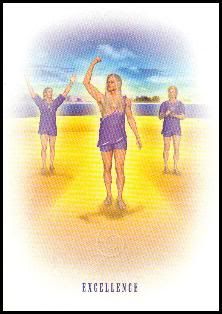 EXCELLENCE

Full meaning: In Golden Atlantis, inter-community games were frequently organised. People competed for sheer joy and because they enjoyed the challenge. The aim of the competition was to develop excellence, never for ego-gratification, so losers were gracious and sportsmanlike. Even bridle-free, rider-less horses raced for the exhilaration and pleasure of it. These were the forerunners of the Olympic games, and they drew communities together to socialise, participate and celebrate.

Do Your Best

If you chose this card, you may be presented with a challenge or responsibility. Accept it and do it graciously to the very best of your ability. It does not matter whether you fail or succeed. Your guidance is to participate with all your heart and soul in whatever life presents you.

Aim to do your best.

To continue and to read today's message for your star sign please go to
http://www.thedailydivination.blogspot.com/2012/03/weekend-divination-cards-friday-16th.html